APEX GREEN ROOFS: Press & Media
The Granoff Center for the Creative Arts opens at Brown
January 25, 2011 | Contact: Deborah Baum | 401-863-2478
PROVIDENCE, R.I. [Brown University] — Brown University will officially open the Perry and Marty Granoff Center for the Creative Arts Feb. 10, 2011. The interdisciplinary arts center will foster innovation, research, collaboration, creativity, and education among the arts, humanities, and sciences and will be a focal point of the University's College Hill campus. The 38,815-square-foot, three-story building is designed by the New York-based architecture firm, Diller Scofidio + Renfro.
The $40-million Granoff Center is a revolutionary new building dedicated to encouraging faculty and students to create bold new directions for research, teaching, and production across the boundaries of individual arts disciplines and among artists, scientists, and scholars.
"The Granoff Center reaffirms the University's belief that the arts are integral to a liberal education," said Brown University President Ruth J. Simmons. "The Center builds on academic excellence at Brown and promotes multidisciplinary engagement among students and faculty. We especially wish to acknowledge the tireless work, leadership, and generosity of Marty and Perry Granoff, who, along with other donors, made this building possible."
Read More +
The Center features:
The Martinos Auditorium, a 218-person auditorium and 35mm screening facility, which will serve as a performance venue and lecture hall.
Four production studios for interdisciplinary work.
The Cohen Gallery, which will host interdepartmental, student, and visiting artist exhibitions.
A recording studio for professional sound recording, sound design, and multimedia work.
The Khoo Teck Puat Multimedia Lab with equipment and software to allow students and faculty to create freely and stretch the boundaries of art and technology.
The Cogut Physical Media Lab to be used for production of and research in sensors, robotics, and physical computing, primary areas of new research and teaching in the arts.
An outdoor amphitheater wired for sound and video, allowing outdoor performances, film screenings, and installations.
A collaborative arts environment
Three floors of the new Granoff Center are split in half and vertically offset. Each half-floor connects to two others. Credit: Iwan Baan"In creating the design for the Granoff Center, we needed structural elements that would stimulate the creative process from virtually every aspect of the building," said Charles Renfro, partner-in-charge for the project. "The Granoff Center is a merger of architectural gesture and academic pedagogy. Our strategy was to encourage and illustrate collaboration across every level."
"The Granoff Center is the embodiment of a movement that started 40 years ago to revisit the University's approach to excellence in liberal arts education through cross-departmental ways to teach and learn," said Richard Fishman, professor of visual art and director of the Creative Arts Council at Brown. "The building was designed specifically to serve the synergistic nature of the program. It encourages just the type of interdisciplinary collaboration Brown has historically been noted for, and will continue to develop in the future."
The Granoff Center is an entirely donor-funded project. Marty Granoff, a Brown parent and member of the Corporation of Brown University, led the fundraising efforts. The Center was named in honor of Perry and Marty Granoff for their extraordinary leadership and generosity on behalf of the University.
"The Center is a groundbreaking and truly unique facility designed specifically for interdisciplinary work between various and often disparate arts disciplines. It puts Brown in the forefront of creating revolutionary and exciting areas of art," Granoff said. "We are all looking forward to the results of what promises to be remarkable work and achievement."
University students will attend their first classes in the Granoff Center on Wednesday, Jan. 26, 2011. Courses include "Experimental Musical Instrument Design," "Curating Contemporary Art," and "Narrative and Immersion."
In addition, the building includes elements that will open the Center to the community, including the Cohen Gallery, which will house exhibitions and installations; performance spaces; and an outdoor amphitheatre. Loop, a Julianne Swartz exhibition, will inaugurate the Cohen Gallery on view from February 4 to March 20. Visit brown.edu/arts.
Design highlights
The Granoff Center is conceived as the next generation loft building with a twist. In addition to its large floor plates, high ceilings, and long structural spans that allow great flexibility, the architecture fosters a collaborative environment. The concept involves three stacked floor slabs that are cut in half and slipped vertically to create six half-levels divided by a shear glass wall. The intentional misalignment connects each studio to one above and below while still maintaining light, sound, and visual control. An internal stair connects all levels and doubles as the social hub of the building; its landings are expanded into furnished breakout spaces for serendipitous and planned encounters between students and faculty. The split-level strategy is also realized at the ground: The landscape in front of the building is split in two. One half is tilted up to form the entrance lobby and public gallery; the other half is tipped down into an outdoor amphitheater that flows into the recital hall. The transparent west facade is open to the campus and general public while the surrounding zinc skin is pleated at the sides to bring in light and view selectively.
The University worked with Shawmut Design and Construction to build the Granoff Center, which is targeting a gold certification from the U.S. Green Building Council's Leadership in Energy and Environmental Design (LEED) program, the nationally accepted benchmark for the design, construction, and operation of high-performance green building. Apex Green Roofs designed the self-sustaining green roof and JaffeHolden designed acoustics for the Martinos Auditorium. An independent report on the economic impact of the Center's construction and operation estimates the project created nearly 310 jobs in construction and related industries in Rhode Island.
A live netcam view of the building is available online.
Brown University
Founded in 1764, Brown University is the nation's seventh-oldest institution of higher education and a member of the Ivy League. Globally acclaimed for its culture of independent thinking and academic excellence, Brown provides close mentoring of students and the vibrant engagement of a research-intensive university. Brown offers nearly 100 programs of study to its approximately 8,300 undergraduate, graduate, and medical students and employs nearly 700 full time faculty members. For more information, visit www.brown.edu.
Diller Scofidio + Renfro
Diller Scofidio + Renfro has designed the renovation and expansion of Lincoln Center in New York City, the new Institute of Contemporary Art on Boston Harbor, and the innovative High Line park in lower Manhattan. Projects in progress include the Berkeley Art Museum and Pacific Archive, the Museum of Image and Sound in Rio de Janeiro, Columbia University Business School, and an inflatable event space at the Hirshhorn Museum and Sculpture Garden in Washington, D.C.
In 1999, the MacArthur Foundation presented Elizabeth Diller and Ricardo Scofidio with the "genius" award for their interdisciplinary practice and commitment to integrating architecture with issues of contemporary culture. They were recently named international fellows of the Royal Institute of British Architects, and both were inducted into the American Academy of Arts and Sciences. Other awards and honors received by Diller Scofidio + Renfro include the National Design Award from the Smithsonian, the Brunner Prize from the American Academy of the Arts and Letters, the AIA President's Award, the AIA Medal of Honor, and numerous AIA Honor Awards for projects including Alice Tully Hall, the ICA, and the High Line.
New Sloan building gets greener
Published in The Tech Volume 130, Number 23 Friday, April 30, 2010
by Quentin Smith
Dustin Brackney of Apex Green Roofs shows sedum cuttings that are being planted on the new green roof on the new Sloan building, E62. Sedum, also known as stonecrop, is a large genus of popular garden plants. The 7,000 square feet of green roof being installed by Apex Green Roofs will contribute points to the building's LEED certification. In addition to the certification, the roof provides long-term cost savings to MIT by extending the life of the waterproof membrane covering the roof from an average of 20 years to 60–70 years. Many cities are encouraging the use of vegetation-covered roofs because they also reduce stormwater runoff by 65 percent and act as a buffer to delay stormwater from reaching drains. "Green" roofs are so called because they are covered with vegetation. On E62, the roof is covered with 3.5 inches of a light-weight soil media planted with sedum cuttings. The work on the roof began last Thursday and will continue through this weekend. The cuttings will put down roots in about a week and a half, and the roof will not be fully grown for another year. Green roofs do require some maintenance, and workers from Apex Green Roofs will revisit MIT approximately three times per year to check for leaks and ensure that the plants continue to grow.
Designing a Vegetated Green Roof System for Electronic Leak Detection
by Laura Kozel, Engineer
High Profile Blog March 2010
With the increasing number of vegetated roofs, electronic leak detection is a critical part of the design and installation to mitigate risk to the contractors and building owner. Although vegetated roofs have many benefits, their primary function is to manage stormwater and they will be a valuable tool to support compliance with the upcoming new Massachusetts DEP stormwater management requirements.
Electronic leak detection technology can pinpoint any breaches in the waterproofing membrane, even with ballast or a vegetated green roof, if the entire system is designed appropriately. It is far superior to the alternatives of flood testing or infra-red scans, neither of which locate exactly where the breach is in the waterproofing.
Electronic leak detection techniques, which include Smartex® vector mapping and high voltage testing, find breaches by trying to force current or complete a circuit through the non-conductive waterproofing membrane. The following must be taken into consideration to ensure the system can be tested:
EPDM is not testable in general because it is a conductive membrane.
Waterproofing membranes should be chosen to avoid the need for a polyethylene root barrier in the vegetated roof system. The root barrier will permanently inhibit the ability to do any type of electronic leak scans. It acts as a barrier between the waterproofing membrane and the surface where the technicians are performing the test. The only alternative is a permanent, automated leak detection system.
Vector mapping requires water in the system to work. It is recommended that the membrane be exposed for several months prior to testing or that the membrane be carefully pressure-washed to ensure water is in the system.
The setup for vector mapping can be installed on any roof to facilitate future one-time scans of the roof.
A conductive mesh is required under the waterproofing in a fully adhered roofing system that includes a vapor barrier to be able to test.
A conductive mesh may also be built into a roofing system to increase the accuracy of the test as it will minimize the distance water has to travel beneath the waterproofing to complete the circuit.
The vegetated roof at Simmons College is a great example of a testable design. The vegetated roof was built by Apex Green Roofs over a Sarnafil G476 waterproofing membrane. This membrane does not require a root barrier. The green roof profile, which meets all current ASTM green roof standards, includes a protection fabric, sheet drain (holding .12 gallons/sq ft), 4 oz separation fabric, and 4-8″ of engineered green roof media. The green roof is accessible and has a curved patio area of pedestal pavers. It is predominantly an extensive roof with seven varieties of sedum but also includes some semi-intensive planting pockets that are 8″ deep which support taller, herbaceous plantings like Rudbeckia (commonly known as Black Eyed Susan), little bluestem and some native grasses. This vegetated roof has a wide variety of plants, colors and bloom times and heights up to 3 feet.
Progeo Monitoring is a local source for electronic leak detection and offers Smartex technologies for one-time scans and permanent, automated leak detection systems.
Laura Kozel is an Engineer and President of Plant America Green and Sales Director for Progeo Monitoring and Green Roof Solutions
Shad's new living roof shows how even the most inhospitable environments can be transformed into models of sustainability.
From the Harvard Alumni Bulletin. Written by Roger Thompson Dec. 2009
ROOFTOP GARDEN: HBS project manager Kevin Ruby surveys Shad Hall's newly planted perennials.
Photographs by Neal Hamberg
When it came time to replace the leaky roof on Shad Hall — runners joked of dodging buckets placed on the indoor track to catch ceiling drips — the HBS Operations crew responsible for the project opted for a novel approach. Shad's runners now have a green roof over their heads, a first for HBS.
What's a green roof? Think garden in the sky. In the case of Shad, the garden covers 5,200 square feet (about a quarter of the roof's total flat surface), requiring 64 cubic yards of "dirt" spread to a depth of three and a half inches. Planted at eight-inch intervals are 9,000 tiny perennials, including eight varieties of drought-tolerant sedum, a low-growing, flowering plant with water-storing leaves.
Rather than dirt, Shad's plants grow in expanded shale, a gravel-like growing medium that won't blow away or compact over time. While it retains water, it also drains well to protect plants from drowning even in heavy rainfall. Beneath the layer of shale lies a moisture-retention fabric to hold water for thirsty plants when needed, making irrigation unnecessary. A leak-detection system can pinpoint holes in the waterproof membrane within a foot, minimizing the need to disturb established plantings during repairs. While it's hard to imagine today, the thumb-sized seedlings planted in September will spread to completely cover the green roof surface within two years.
BEFORE AND AFTER: Step one involved removing the stones (top) that covered the old, leaky roof. Areas not suitable for a green roof were covered with sheets of white PVC (above) that reflect the sun's rays.
A living roof can cost more than twice as much as a conventional roof, but given its positive environmental impact, energy efficiencies, and extended life, it offers benefits over time that outweigh the additional costs. A green roof is actually two roof systems in one. On the bottom is an impermeable membrane similar to that of a conventional roof. Atop that is insulation, a water retention and drainage system, several inches of growing medium, and a variety of hardy plants (see diagram above). The extra layers create a thermal blanket that keeps a building cooler in the summer and warmer in the winter.
In addition to the green roof, another 15,000 square feet atop Shad not suitable for planting were covered with sheets of white PVC (polyvinyl chloride). The light surface provides energy savings because it reflects the sun's heat and reduces cooling costs.
With completion of the living roof project, Shad has become the School's showpiece for sustainability, says Andy O'Brien, HBS chief of Operations. "We have photovoltaic panels on a portion of the roof, and we run a cogeneration plant in the basement that uses natural gas to fire a generator to help power the building, with the waste heat going to create domestic hot water," he explains. This trio of projects, supplemented by other energy- and water-saving measures, anchors the School's application for Shad to receive LEED (Leadership in Energy and Environmental Design) certification. HBS now has five LEED-certified buildings — Aldrich, Gallatin, Hamilton, McCollum, and Wyss, — and two additional buildings striving for LEED status — the Class of 1959 Chapel and McCulloch. The School's goal is to achieve LEED Gold Certification for all new construction and major renovations, says O'Brien.
UNDER CONSTRUCTION: Workers spread 64 cubic yards of growing medium, one bag at a time.
The Shad project underscores HBS's commitment to doing its part to help the University meet its ambitious goal of reducing greenhouse gas emissions by 30 percent from 2006 levels by 2016, explains Doug Scatterday, director of facilities. The School has already made significant strides toward that goal. Since 2003, HBS has completed more than 45 energy conservation measures, offsetting greenhouse gas emissions by the equivalent of 2,495 metric tons of carbon dioxide, reducing operating costs $920,000, and maximizing utility rebates totaling upwards of $830,000.
Shad's green roof may be the School's latest sustainability innovation, but living roofs aren't a new idea. They've been used in Europe for hundreds of years and were common in 19th-century sod homes across the American prairie. The recent surge of interest in green roofs stems from a modern-day concern for mitigating the environmental impacts of conventional roof construction.
STARTING SMALL: The last step involved planting 9,000 tiny perennials roughly eight inches apart.
In blazing summer heat, the daytime temperatures on a conventional asphalt roof can reach 160 degrees or higher compared to the 80s and 90s for a green roof. A Columbia University study found that green roofs can reduce average daily energy demand of a building by about 15 percent. Because a green roof protects the underlying waterproof membrane from temperature extremes and the sun's ultraviolet radiation, it can last up to twice as long as a conventional roof.
Green roofs also help reduce the urban heat island effect, a condition created when dark, impermeable surfaces like asphalt absorb heat and radiate it back into the air, forming an urban heat dome.
When it rains, a green roof acts much like a lawn to absorb, retain, and filter runoff. The Shad green roof will retain an estimated 75 percent of annual rainfall, says Charlie Sinkler, whose Somerville, Massachusetts, firm, Apex Green Roofs, installed all the components of the system. Collectively, green roofs in urban settings can help reduce storm-water runoff that causes sewer systems to overflow.
ALL GROWN UP: The green roof at Simmons College in Boston shows what the Shad roof will look like by the summer of 2011.
Photograph courtesy Apex Green Roofs
In Germany, Switzerland, Austria, and Japan, laws require green roofs on buildings with roofs of low pitch. In the United States, a number of cities offer builders and companies tax breaks, rebates, and higher-density building allowances for installing green roofs. Chicago, a national leader in green roof installation, now has more than 400 constructed or planned green roofs in the downtown area. The Boston metro area has fewer than two dozen, estimates Sinkler of Apex Green Roofs. Harvard has five of those.
"HBS is an innovation leader in sustainability," says Heather Henriksen, director of Harvard's Office for Sustainability. "Andy O'Brien has an incredibly dedicated team that is always looking for continuous improvement."
1/14/2010 6:01:00 AM Print this article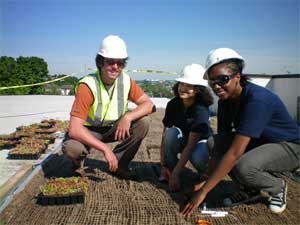 The first Green Roof in Somerville was installed at St. Polycarp Village now many Somerville's residents are contemplating transforming its roofs into budding ecosystems.
By James Reddick

Hidden from the naked, street-level eye sits acres upon acres of potential green land in Somerville, a city remarkably lacking in its green spaces. In what is largely a concrete jungle, Somerville's residents, environmentalists and community leaders are contemplating transforming its roofs into budding ecosystems. The green roofs momentum has gone from the initial, trial phase - marked by the St. Polycarp Village roof installed this part summer - to a more comprehensive discussion regarding policy. "We're not at the point for pilot projects anymore," said Karen Weber, co-founder of Earth Our Only Home, a Boston-based organization dedicated to "greening" the urban environment. Instead, legislation is sought that would provide incentives to Somerville's residents to install green roofs atop their property. Dustin Brackney, a founding partner of Somerville's Apex Green Roofs, described the motivations on both the municipal and individual sides of the issue. For homeowners, the layers of soil above them create a cooling effect in the summer while providing heat in the winter. For the city, Green Roofs provide an absorbing property that takes in storm water and thus reduces runoff during rain storms. Last year, the Mystic River, which is the unfortunate recipient of much of Somerville's sewage overflow, received a C- grade from the Environmental Protection Agency (EPA), up from a "D" the year before. Alewife Brook also suffers the pollution of its neighbors. Five years ago, Somerville and Cambridge, with the help of federal funding, began work on a $75 million project to curb pollution created by Combined Sewage Overflows. As Joe Beckman, a Somerville resident, said, the millions spent to offset the consequences of storm water runoff "could fund a lot of green roofs."

Given the costs, Somerville residents would be unlikely to bear the burden of Green Roof installations on their own. The price of green roofing, said Brackney, ranges from $8 to $15 per square foot and does not include supplemental expenses like structural analyses, or building a means for roof access. At St. Polycarp, the final bill was $25,250. If Somerville were to adopt similar measures as cities like Chicago, New York and Washington, DC, it could help to make the transition more feasible for property owners. Rebekah Gewirtz, Ward 6 Alderman, is advocating for citywide action, which could entail tax abatements or other subsidies for those who wish to go green. "I firmly believe that if you incentivize, you will get a return on your investments," she said. With the assistance of Somerville Climate Action, among others, Gewirtz is collecting the information she needs in advance of a formal proposal. "There's not a lot of open space in this city," she said. "To me, it seems obvious to ask the question 'how can we maximize our space?"
'Understanding Green Roofs' at The Wild Center
The Adirondack Daily Enterprise
Thursday, Sept. 10th, 2009
TUPPERLAKE - The Wild Center will present "Understanding Green Roofs" from 11 a.m. to 12:30 p.m. Tuesday in the Flammer Theater. The presentation aims to teach what it takes to plan, install and maintain a green roof in the northern Adirondack climate.
There will be a session on green roof principles presented by two experts in the field. Dustin Brackney, project manager with Apex Green Roofs, Somerville, Mass., installer of The Wild Center's 2,500-square-foot green roof, and Marguerite Wells, owner of Motherplants, a green roof plant nursery in Ithaca, will share their thoughts, tips and techniques on how to successfully grow plants on a building's roof in our harsh northern climate.
Roof structure requirements and green roof material components will be discussed, along with considerations for plant variety selection. The session looks to teach how a green roof can benefit the environment and people's pocketbooks by creating a unique wildlife habitat that can reduce building heating and cooling energy costs.
For more information and directions, visit www.wildcenter.org or call 518-359-7800. This event is free to members or with paid museum admission.
First Green Roof in Somerville installed at St. Polycarp Village
The Somerville News
Tuesday, June 23, 2009 by Laura Kozel
The first Green Roof in Somerville was installed May 22nd on a brand new building on the site of St. Polycarp Village through a collaboration among the Somerville Community Corporation, Apex Green Roofs and Prospect Hill Academy. The green roof is being used to educate students and community members about environmental issues and solutions and is part of a transformation of a closed Catholic parish into a mixed-use, mixed-income development by the Somerville Community Corporation. This installation also marks the first-time in the Boston area that a Green Roof, photovoltaics and solar/thermal are being used on a mixed-income property.
The students at Prospect Hill Academy participated in the installation and planting of the green roof as the culmination of a green roof course. The "Green Roofs for the 21st Century" course is part of a larger program that teaches students about the engineering design process by involving them in a community project. The students have been learning about the many environmental and financial benefits of green roofs which include more than doubling the life of the roof, retaining storm water, reducing energy needs, creating habitat, cleaning the air and improving the quality of life of those around them. "Our students are thrilled to be a part of the green roof installation! Exposing high school students to these emerging technologies while also getting them involved in the community in such meaningful ways has really been a great experience," said Michael Moretti, a teacher at Prospect Hill Academy.
Somerville leads the way with new green affordable housing at St. Polycarp
By Auditi Guha Wicked Local Somerville Posted Jun 08, 2009 @ 11:53 PM Last update Jun 09, 2009 @ 09:08 PM
A green roof, triple-paned windows that block out highway noise and the creative revitalization of an underused lot made Somerville's newest affordable housing project a poster child for the state.
State and federal officials congratulated Somerville for its commitment to affordable housing at the ribbon-cutting ceremony of the Saint Polycarp Village apartments on Monday June 8, 2009.
Standing next to Mystic Avenue and speaking over the traffic noise of I-93, Congressman Mike Capuano congratulated Mayor Joe Curtatone and the Somerville Community Corporation for a project well done.
"This project is the best representation I can remember of bringing a community back together, building it as a place for people to live and to raise their families in, and to make life better for them," said Capuano as he recalled how I-93 divided the neighborhood and took out 600 homes in the city. "This particular project, to me, represents the healing of one of the many wounds that society put on its own sisters and brothers years ago. This is a wonderful project."
New Green Roof Maintenance Division - Press Release
Apex Green Roofs, Inc., a full service green roof design and construction company based in Somerville, MA. is pleased to announce their new green roof maintenance division.

Read More +
Potter League Grows a Greener Animal Shelter in Middletown
01:00 AM EDT on Friday, September 26, 2008
By Meaghan Wims Journal Staff Writer
Justin Bendel and Dustin Brackney, of Apex Green Roofs, Somerville, Mass., plant the rooftop garden at the new Potter League animal shelter going up in Middletown. The building is expected to open next spring.
The Providence Journal / Frieda Squires
MIDDLETOWN — The rooftop garden at the new Potter League for Animals won't rival your home garden. No petunias, begonias or geraniums here.
The 3,000 plants that Dustin Brackney and his crew planted this week on the Potter League's "green" roof are now kind of puny. Even at full bloom next spring, the vegetation will still be pretty scraggly.
But this garden isn't designed to be pretty. Brackney's Apex Green Roofs, of Somerville, Mass., selected the lavenders, alliums, sedums and grasses specifically for their tolerance to wind, heat and drought. Together, the plants will act as a shield, insulating the new animal shelter, absorbing sunshine, reducing greenhouse gases and limiting rainwater runoff.
How to plant a green roof?
The Green Blog - Boston.com
Posted by David Beard, Boston.com Staff May 24, 2008 08:33 AM
WGBH is planting roots along with the solar arrays on the rooftop of its new building in Boston's Brighton neighborhood.
Click here to watch a Somerville company take the final steps in making the rooftop garden happen, with special soil and vegetation that can withstand wind gusts and drought.

Here's more from WGBH, and click here for Robert Campbell's review of the building itself.
Green roofs already exist on Boston's World Trade Center, the Four Seasons Hotel and
Massachusetts General Hospital, according to this article. The Apple Store that just opened on Boylston St. in the Back Bay put in a green roof as well (here's a posting on it by the Globe's Hiawatha Bray.)
Proponents say a hot summer day pushes up conventional roof temperatures to 150-plus degrees, but a green roof's summertime temperature (in Boston) tops out around 90, keeping the building below cooler -- and saving energy.
The roofer didn't do it alone. Karen Weber's Earth Our Only Home, Inc., of Roslindale, worked in conjunction with National Grid to provide advice, funds and contract for the installation. National Grid paid for the first phase of the project, and more help came from Apex Green Roofs, a local contractor of Philadelphia-based Roofscapes, Inc.
Green roof sprouts in city
The Lancaster New Era
By Bernard Harris
Published: May 16, 2008

Spring planting was a tall order on Lancaster's East Fulton Street. It took place about 25 feet up. And rather than your typical crops or garden-variety plants, landscapers working on the new National Novelty Brush Co. building spread cuttings from sedums onto a coconut fiber mat. The small, plump water-sucking sedums are expected to root there, transforming the top of the warehouse into Lancaster's first "green roof."
National Novelty, 505 E. Fulton St., may be the first, but it won't be the last to sprout atop the city. Four other buildings are in line to get vegetation-topped roofs under a state grant program.
Rick Seavey, president and CEO of National Novelty Brush, said he was taking a long-term view when he invested in the technology that is new to the area. Seavey's company makes plastic bottle caps, some with attached brushes such as those for fingernail polish. "I've been reading about it for a long time," Seavey said. "It just seemed like the right thing to do."
The green roof, with plants growing in a sandy soil spread on drainage matting, is expected to insulate in the winter, keep the building cool in summer and soak up rain that falls on the 18,000-square-foot area.
City's First Green Roof Won't Be Last
Lancaster Intelligencer Journal
May 8, 2008
Rick Seavey, president and CEO of National Novelty Brush Co. in Lancaster, talks about the company's recently installed plant-covered green roof. Photo Courtesy Lancaster Newspapers
These days, it's common for businesses to "go green."
In fact, environmental action on the corporate level has become a somewhat trendy approach to the critical issue of global warming.
National Novelty Brush Co. is no exception. But the Lancaster firm has gone far beyond standard recycling and energy-saving efforts — the company has literally gone green.
At least its rooftop has.
This week, crews from the Somerville, Mass. firm APEX Greenroofs are completing the city's first green roof, a contained green space on top of a man-made structure.
Because the green roof acts as an insulator, it cuts global warming emissions by reducing the use of air conditioning and heat.
It also will improve air quality and reduce storm-water runoff, while creating a wildlife habitat for butterflies, birds, bees and other insects.
Mayor Menino Raises the Green Roof on Runoff
Harvey the Hoverfly II
Sunday, September 20, 2009
by Daniel E. Walsh Author of Our Sunday "History & Reflections" Series
When I come home feelin' tired and beat I go up where the air is fresh and sweet (up on the roof) I get away from the hustling crowd And all that rat-race noise down in the street (up on the roof) On the roof, the only place I know Where you just have to wish to make it so Let's go up on the roof (up on the roof) ~ Goffin and King
Harvey the Hoverfly* is a little confused. He and his antecedents have hovered around the Hub for eons. Until quite recently things had been tough and growing tougher for the average hoverfly to do what hoverflies do. Pesky humans and their swatting -- unfortunately for the hoverflies, they look like wasps, only smaller, and folks like to whack them.
For the flies in this urban setting there are fewer places to land; there is smoke and bad air to contend with and that music! What's the point? Why it's enough to poke your eyes out, all 5 of them! That's the question raised around the haunts of the hoverfly. But, now I'm into something good, hums Harvey. This is nice - freedom up in the air and plenty of Bailey's Gold to land on and a surfeit of aphids to eat, say the flies. Hoverfly heaven. From Yarmouth Town to Brockton the buzz abounds. What could be causing all this Diptera fluttering and excitement? Why, it's the green roofs popping up around Boston!
Video
WGBH Vegetative Roof Installation Video - This documentary about the installation of the green roof atop WGBH was created by Brynmore Williams for a Boston.com segment on the project. The roof is complete and the sedums are beginning to take hold.